[ This week, Joe reviews books that are on the older side, but still relevant. On Monday, "Easy Riders, Raging Bulls: How the Sex-Drugs-and-Rock 'N' Roll Generation Saved Hollywood" by Peter Biskind. Today, "The Men Who Would Be King: An Almost Epic Tale of Moguls, Movies, and a Company Called DreamWorks" by Nicole LaPorte.
]
I remember when
DreamWorks
was founded. It happened right around the moment in time when it would matter the most to me: my mid-teens. This is the period in most people's lives when they develop their individual tastes and identities. For me, both my taste and identity were centered around movies and TV. I watched as much as I could. And when I wasn't watching, I was reading about the stuff I wasn't watching. The people, the places, the technology, the methods, the money; I wanted to know about all of it.
So it completely blew my mind when I pulled that certain issue of
Entertainment Weekly
from my mailbox -- I had put my allowance toward buying a subscription -- and learned that
Steven Spielberg
,
Jeffrey Katzenberg
, and
David Geffen
were starting a brand new studio of their own. I didn't know it was possible to start a new multimedia studio in modern times.
It seemed to me that, like religions, movie studios were things that had to be started long before any of us were born. But if anybody was going to start a new studio, of course it would need to be these powerhouse producers.
What a monumental thing to happen in my lifetime! I couldn't wait to see what would come of it.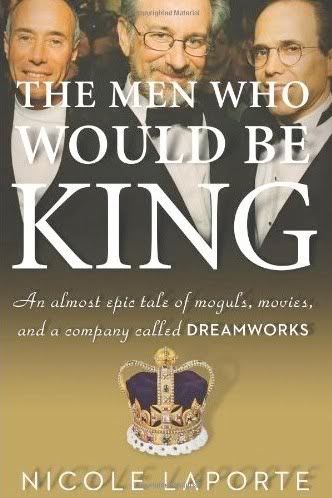 Nicole LaPorte
's
"The Men Who Would Be King: An Almost Epic Tale of Moguls, Movies, and a Company Called DreamWorks"
begins with everyone in Hollywood feeling pretty much the same way I did. Anticipation was high. DreamWorks was the first new American studio in 60 years and promised to be a haven for artists (commerce was to have second priority). But questions abounded. What exactly would DreamWorks provide that other studios didn't? Could a new studio sustain itself financially without a back catalogue of properties providing a steady money stream? And why would Spielberg -- with the ultimate sweetheart deal at
Universal Studios
-- and
Geffen
-- already a billionaire from his years as an agent and record label founder -- even want to participate in such a thing? (
Katzenberg
was the only one who needed a fresh start, after falling out with Disney.)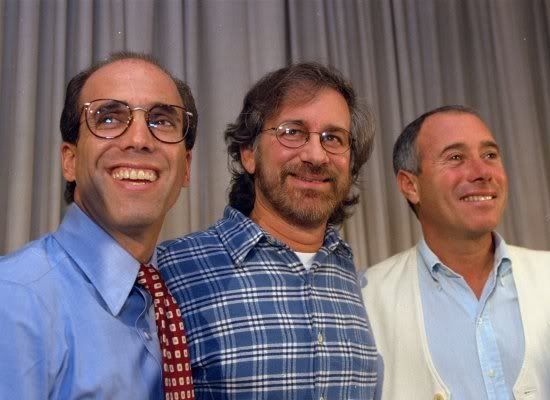 DreamWorks had a fascinating roller coaster of history, and LaPorte details every step of the process from its bumpy start to its rapid ascent. (Remember, this studio won three consecutive Best Picture Oscars with
American Beauty
,
Gladiator
, and
A Beautiful Mind
before it was even 10 years old.) But how did such a successful independent venture get bought out by another studio only 12 years after its founding? And how did it buy back its independence two years later?
LaPorte's descriptions of the people, the places, and especially the meetings are snappy and colorful.
(So many of DreamWorks' key press conferences seemed to occur on those rare, rainy Los Angeles days.) Even something as simple as the brainstorming session that led to the company's name is told in just the right amount of detail to capture your imagination.
Much of my personal delight in reading "The Men Who Would Be King" stems from my familiarity with the events it covers. Unlike "Easy Riders, Raging Bulls," I was alive when all these things were happening, and I was paying attention to the way they unfolded in real time. It's interesting to revisit these moments now, with new layers of information and context, and compare them to the way things were originally portrayed in the media. For a Hollywood history junkie like me, it's great to not only get more behind-the-scenes information, but to confirm what I'd hoped had been true all along: that I was watching history unfold while it happened.
As with "Easy Riders, Raging Bulls," you'll want to take what you read here with a grain of salt. (Does Steven Spielberg
really
have an "escape pod" motorcycle always at the ready at his Amblin office?) But while the truths contained in this book may be embellished, you can still count on walking away with a better understanding of how it all played out, and the personalities that made it happen.
If you're an entertainment lover of any kind, "The Men Who Would Be King" is essential.