Over the last few years, I've come to dread the month of October. The television networks -- both broadcast and cable -- have settled on October as the month to just pummel us with all their new stuff. Not interested in a slow rollout, they bombard us with all of our returning favorites, and a huge crop of new shows vying for our time and affection. (But mostly time.) On top of that, I'm always trying to squeeze in as many horror movies as I can to celebrate Halloween. This leaves me with a maxed-out DVR and an overstuffed Netflix queue which don't resolve themselves until sometime in the dead of December when, all of a sudden, everything in entertainment just
stops
.
Nearly lost in the shuffle of all that noise was the show that became my favorite of 2011...
Homeland
The story revolves around Nicholas Brody, a Marine sergeant missing in Iraq and presumed dead for eight years. Discovered during a raid, he is returned home to a family that had attempted to move on without him. Meanwhile, CIA agent Carrie Mathison is convinced that Brody has been turned by the enemy and is planning an attack on the U.S. But Mathison's questionable mental state casts doubts on her suspicions.
"Homeland" is part political thriller, part investigative procedural, and part family drama.
While the hook of the show is trying to figure out whether or not Brody plans on staging an attack, episodes spend as much time dealing with issues of post traumatic stress, reintegrating into family life after eight years of captivity, infidelity, politics and more. No aspect of the show is uninteresting. You won't find yourself merely bearing the family scenes in order to get to the investigative scenes. "Homeland" is always gripping and suspenseful.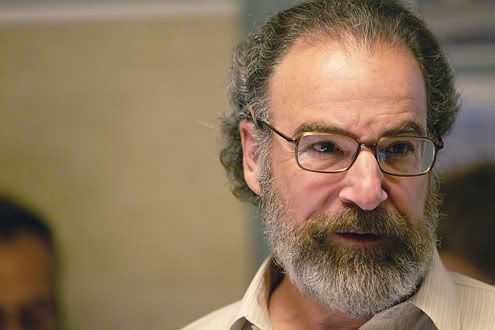 Every aspect of this show is a home run.
The characters are strongly written, and the cast elevates the material further.
Damian Lewis
, who first got my attention in "
Band of Brothers
," gives another outstanding performance as Brody.
Claire Danes
has grown from being America's sweetheart in the early '90s to possibly being one of its best actresses. Her turn as Carrie Mathison -- a performance that balances intelligence with recklessness and a controlled mental disorder that's straining to get out -- comes hot on the heels of her Emmy win for "
Temple Grandin
." And
Mandy Patinkin
, who is always great in every role he plays, is -- surprise! -- great as the smart and stern yet fatherly Saul Berenson.
Needless to say
the story and plotting are incredibly intricate, with believable twists and turns
; a show like this would fall apart otherwise. In fact, the only thing that's a letdown about this show is the opening title sequence. While the broadcast networks have all but eliminated the opening theme song over the last decade, the cable networks have picked up the slack by creating some of the most interesting show openers ever. "Homeland" attempted a somber, evocative newsreel montage, but ended up with something bland. That's a shame, because everything else about the show is just the opposite.
"Homeland" is full of surprises and goes against your expectations at every turn. Whatever's going on, it's never quite what you think. And yet, the resolution is not a cheat. And the conclusion to the season manages a rare feat: it's a satisfying, non-cliffhanger endpoint, but still provides a clear view of how the story will expand and grow in the next season.
This show is a must-see.
Surprisingly, "Homeland" is based on an Israeli TV series that I'd be very interested in checking out. The version I saw is so specific to the politics and the mood of the U.S., I can't imagine what it would look like to see this story played out under a different political system.