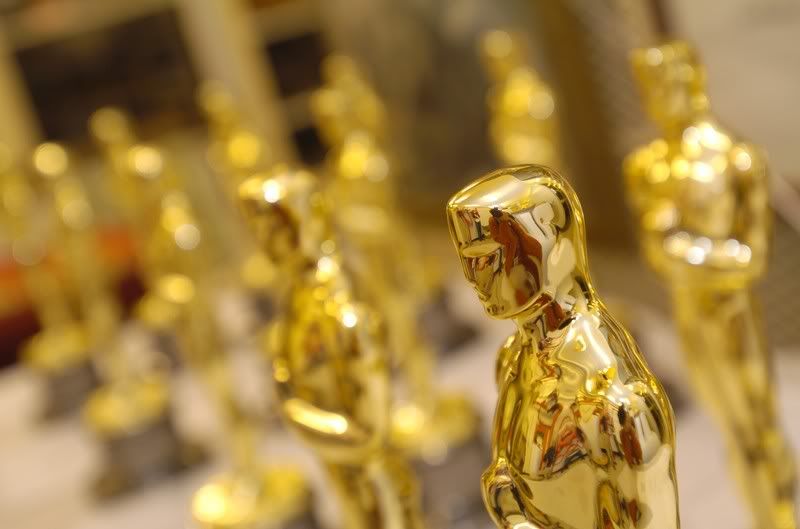 And here we are again.
Is it just me, or did Awards Season sneak up on us this year?
I'd barely begun to process my thoughts on 2011 in movies when the smaller organizations started handing out their prizes. But the Big Show quickly approaches, so it's time to get my thoughts organized. Here are my predictions for this year's Oscars...
SOUND EDITING
Drive
The Girl With the Dragon Tattoo
Hugo
Transformers: Dark of the Moon
War Horse
SOUND MIXING
The Girl With the Dragon Tattoo
Hugo
Moneyball
Transformers: Dark of the Moon
War Horse
I always feel obligated to describe the difference between these two categories as, let's face it, they're not exactly the most glamorous, so nobody ever remembers what distinguishes them. But hey, these wins could give you the edge in your Oscar pool, so pay attention.
Sound editing
is the process of creating the aural aesthetic of a movie; kind of the audio equivalent of the cinematography and production design.
Sound mixing
is the recording and blending of all the sound elements, creating the final results that you hear when watching a movie.
These categories usually go to the flashiest contenders - war movies, action movies, superhero stuff. For example, both went to
Inception
last year. This year, however, I anticipate a split. Sound editing will go the flashy route with
Transformers
. Sound mixing will go the high-minded route:
Dragon Tattoo
.
VISUAL EFFECTS
Harry Potter and the Deathly Hallows Part 2
Hugo
Real Steel
Rise of the Planet of the Apes
Transformers: Dark of the Moon
The effect that stood out from the crowd in 2011 was
Planet of the Apes
. Bonus points for actually being a thoughtful scifi movie as well. The Academy will be happy to reward this.
COSTUME DESIGN
Anonymous
The Artist
Hugo
Jane Eyre
W.E.
Well, this is always a tough category for me to predict. The smart money is usually on the period piece, but... they're
all
period pieces this year. Since
The Artist
is likely the big winner this year, I think it will take this award as part of its sweep.
DOCUMENTARY SHORT / ANIMATED SHORT / LIVE-ACTION SHORT
I'll be seeing the animated and live-action shorts in a couple weeks, and will post my picks shortly after that. Be sure to check back. I won't have access to the documentary shorts, so you're on your own with those. If there's one about World War II, bet on that.
[
*
Updated Feb. 21, 2012 -
click HERE
for my short film predictions. ]
FILM EDITING
Anne-Sophie Bion and Michel Hazanavicius, The Artist
Kevin Tent, The Descendants
Kirk Baxter and Angus Wall, The Girl With the Dragon Tattoo
Thelma Schoonmaker, Hugo
Christopher Tellefsen, Moneyball
This will probably end up another win for
The Artist
, although I'm concerned
Dragon Tattoo
could come in and grab it. But no,
The Artist
's momentum should carry this along with it.
MUSIC (ORIGINAL SCORE)
John Williams, The Adventures of Tintin
Ludovic Bource, The Artist
Howard Shore, Hugo
Alberto Iglesias, Tinker Tailor Soldier Spy
John Williams, War Horse
I was really into the
Tintin
score (as well as
everything else about Tintin
), but the Academy has pretty much rejected the movie outright, so I wouldn't expect it to perform here. I'd like to say that this will be another win for
The Artist
, but there was that
bit of controversy
specific to the score a while back. Then again, that was kind of a controversy of one. I do think
The Artist
will win here.
MUSIC (ORIGINAL SONG)
"Man or Muppet" from The Muppets, Bret McKenzie
"Real in Rio" from Rio, Sergio Mendes, Carlinhos Brown and Siedah Garrett
Wow, two whole songs were nominated. Two! Screw you, everyone else who wrote a song for a movie! Anyway, I personally liked the song from
Rio
better, but I think there's just too much goodwill surrounding
The Muppets
. "Man or Muppet" will most likely win.
ART DIRECTION
The Artist
Harry Potter and the Deathly Hallows Part 2
Hugo
Midnight in Paris
War Horse
This is another category where flashy and obvious seems to win, so I'd expect
Harry Potter
to take this one.
CINEMATOGRAPHY
The Artist
The Girl With the Dragon Tattoo
Hugo
The Tree of Life
War Horse
Tree of Life
has a good shot here; Malick is nothing if not a painstaking photographer. But as part of the overall package, the cinematography in
The Artist
was critical to its successful execution. The Academy will surely recognize that achievement.
ANIMATED FEATURE
A Cat in Paris
Chico & Rita
Kung Fu Panda 2
Puss in Boots
Rango
My horse was left out of this race. I'm an
enthusiastic fan of Tintin
, and I don't understand why it hasn't caught on better with audiences and critics in the U.S. I found
Puss in Boots
remarkably charming and rewatchable, if not especially funny. The two foreign films in this category are strong, but the Academy will probably end up keeping things safely American here. The Annie Award went to
Rango
, and I'm thinking the Academy Award is likely to follow suit.
FOREIGN FEATURE
Bullhead
Footnote
In Darkness
Monsieur Lazhar
A Separation
Full disclosure: I've seen exactly zero of these movies. I know, I know... I should be ashamed. Regardless, I've heard the buzz on all of these movies, and none has been more buzzed about than
A Separation
. Everyone who's seen this movie has been blown away by it. No dissenting opinions. This is the one to bet on.
DOCUMENTARY FEATURE
Hell and Back Again
If a Tree Falls: A Story of the Earth Liberation Front
Paradise Lost 3: Purgatory
Pina
Undefeated
The strongest contenders here are
Pina
and
Paradise Lost 3
.
Pina
's smart use of 3-D -- in a documentary, no less -- could give it the edge. But
Paradise Lost 3
will be remembered as the movie that got innocent people released from jail. That's a pretty strong recommendation. My gut tells me this one will go to
Paradise
.
ORIGINAL SCREENPLAY
Michel Hazanivicius, The Artist
Kristen Wiig and Annie Mumolo, Bridesmaids
Woody Allen, Midnight in Paris
J.C. Chandor, Margin Call
Asghar Farhadi, A Separation
Strong category here. There's
A Separation
which, again, has been a huge critical hit. But it will win Best Foreign Film, and the Academy won't feel the need to reward the script separately.
Midnight in Paris
is well-reputed as a return-to-form for Woody Allen, and is a movie I particularly enjoyed. But I think the Academy will be satisfied that they merely nominated this film; they won't feel the need to actually give it the win. There's a possibility that
Bridesmaids
could win this one, as a de facto "best comedy picture" award. But ultimately, I'd expect
The Artist
to win this one in its lead-up to winning the grand prize.
ADAPTED SCREENPLAY
Alexander Payne, Nat Faxon and Jim Rash, The Descendants
John Logan, Hugo
George Clooney, Beau Willimon and Grant Heslov, The Ides of March
Steven Zaillian, Aaron Sorkin and Stan Chervin, Moneyball
Bridget O'Connor and Peter Straughan, Tinker Tailor Soldier Spy
There's no clear frontrunner here, at least in this observer's humble opinion. I don't think
Ides of March
or
Moneyball
have the critical or commercial oomph to land a victory here, despite the big names attached to those scripts.
Tinker Tailor Soldier Spy
has that British edge, but also not a great deal of breakout attention. The two top contenders are
Hugo
and
The Descendants
.
Hugo
is a movie about movies, which gives it a strong edge (Hollywood likes nothing more than its own reflection). But I think
The Descendants
is slightly better loved overall, and won't be winning much else on Oscar night (although this is also true for
Hugo
). I'd expect to see
Dean Pelton
take the stage.
( This guy co-wrote The Descendants )
SUPPORTING ACTOR
Kenneth Branagh, My Week With Marilyn
Jonah Hill, Moneyball
Nick Nolte, Warrior
Christopher Plummer, Beginners
Max von Sydow, Extremely Loud & Incredibly Close
The elder statesmen are definitely the better bets this year; all three gave highly-regarded performances, and all three have yet to win Oscars. But Christopher Plummer's role as a cancer-stricken father who comes out to his son late in life has been one of the most talked about of the year. This is pretty close to a sure thing.
SUPPORTING ACTRESS
Berenice Bejo, The Artist
Jessica Chastain, The Help
Melissa McCarthy, Bridesmaids
Janet McTeer, Albert Nobbs
Octavia Spencer, The Help
This, on the other hand,
is
a sure thing. Octavia Spencer will win.
ACTOR
Demian Bichir, A Better Life
George Clooney, The Descendants
Jean Dujardin, The Artist
Gary Oldman, Tinker Tailor Soldier Spy
Brad Pitt, Moneyball
Although the momentum of
The Artist
could tip the scales in Jean Dujardin's favor, what really delights people is the cleverness of the concept and the execution of it by the director. This is most likely a win for Clooney.
ACTRESS
Glenn Close, Albert Nobbs
Rooney Mara, The Girl With the Dragon Tattoo
Viola Davis, The Help
Meryl Streep, The Iron Lady
Michelle Williams, My Week With Marilyn
If it's possible to have a
more
sure thing than the Supporting Actress category's sure thing, it's this. I know that everyone automatically assumes Meryl Streep will always win everything, but that's not historically true, and it won't be true here. Viola Davis will easily walk away with the win.
DIRECTOR
Michel Hazanivicius, The Artist
Alexander Payne, The Descendants
Martin Scorsese, Hugo
Woody Allen, Midnight in Paris
Terrence Malick, The Tree of Life
Look, I like all of these guys. Eight years later and Payne's
Sideways
still cracks me up.
Hugo
was charming and, as noted above, a great opportunity for a film lover like me to reflect on the act of loving film.
Midnight in Paris
was extremely entertaining and may actually end up being a movie I need to own... which, in the age of digital streaming content, is really saying something. And Terrence Malick's movies are always well-constructed meditations. But
The Artist
was a smart gimmick that managed to transcend its gimmickry and stand on its own as an entertaining movie. In short, it was an interesting premise that was successfully executed. The person who gets credit for that is the director.
PICTURE
War Horse
The Artist
Moneyball
The Descendants
The Tree of Life
Midnight in Paris
The Help
Hugo
Extremely Loud & Incredibly Close
I remember when I first started hearing about
The Artist
. It was supposed to have this cute little conceit of a concept, made by a ragtag group of French people with a tiny budget and a bit of ingenuity. The Weinsteins had picked it up, and if you lived in one of the larger cities it might play in an arthouse theater near you. Maybe it would get enough notice to pick up a Best Foreign Film nomination.
I should have known. Harvey had other plans.
While
The Artist
reminded me of
Cinema Paradiso
, it must have reminded Harvey Weinstein of
Shakespeare in Love
- a lofty, intelligent love story that he could take all the way to the top. And this year, there's no
Saving Private Ryan
to threaten his victory.
It's funny... about this time last year, I was talking about how Kevin Smith's move to self-distribute his latest movie,
Red State
, was
reminding me of "the good old days" of Sundance
- a time when some of the most exciting things in the world of filmmaking were coming out of that festival every January. Now the Weinsteins -- who stumbled a bit after being kicked out of their original company, Miramax -- are finding their footing again and are up to their old tricks of taking small, quality movies further than anyone expected them to go - all the way to top. (
The King's Speech,
last year's Best Picture winner, was one of theirs.) My '90s nostalgia is tripping all over again.
There's a chance that
The Help
could swoop in and take a populist victory. It's easily the most audience-pleasing movie on the list. But amongst Academy voters, it's
The Artist
all the way.
Well, that's my take on this year's Oscar race. What do you think? Agree? Disagree? Let me know in the comments below.
On Oscar night, I'll be
live tweeting
during the ceremony.
Click here
to follow me. The 84th Academy Awards will air on February 26, 2012 at 8 eastern/5 pacific on ABC.