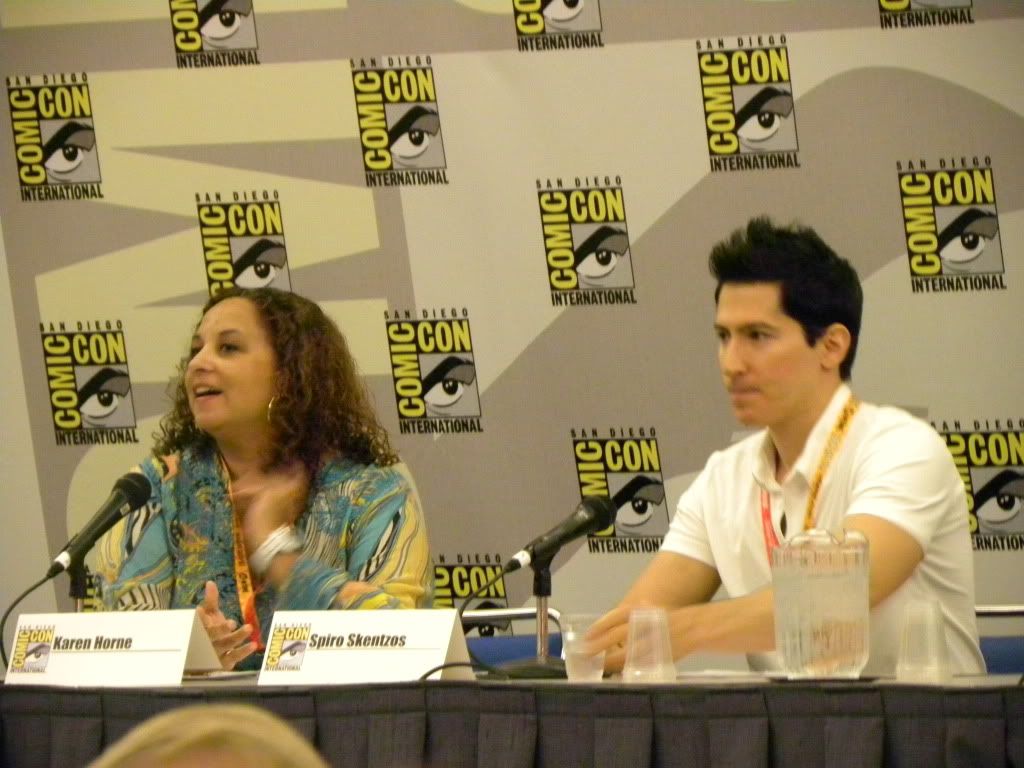 Hello again from the Professional Lounge. Me being a professional and all.
Hosted by
Karen Horne
(creator of the
Nickelodeon Writers' Fellowship
and
NBC's Writers On the Verge
) and TV writer
Spiro Skentzos
, this panel was exactly what it promised to be: a primer on how to go about making a career for yourself as a TV writer.
Similar to
yesterday's Pitching Hour panel
, this panel was informative, but is information you can find elsewhere. Seriously, if you're interested in writing professionally, you should already be listening to the podcasts and reading the blogs that numerous professional writers generously make available to you for free. Bless our modern technology.
Due to Ms. Horne's involvement in writing programs, much was discussed about how to apply, how to stand out, and the (obvious) benefits of getting accepted into one. Mr. Skentzos confirmed one of the most frustrating aspects of these programs for me:
the fact that I never get accepted
the fact that many (most?) of the people getting accepted into those programs these days are already writers with produced credits, agents, or maybe even long-standing careers. You can't begrudge Mr. Skentzos the fact that he got accepted to a program after already having had a years-long career as a sitcom writer (don't hate the player, right?), but it's important for newcomers to understand you're up against top talent not just when you're trying to get a writing gig, but when you're simply trying to get into a pre-career program.
On the flip side of that coin: Mr. Skentzos has applied to the
Warner Bros. Writers Workshop
for ten years and has never been accepted. So, if you're an amateur who's been frustrated about getting shut out of writing programs, keep in mind that there are people with decade-long careers who are also getting rejected. So maybe you don't suck. I mean, look... maybe you do; but rejection from these programs doesn't necessarily indicate that.