Loose Thoughts
A year of surprises.
By the time Oscar night arrived,
Argo
,
Anne Hathaway
and
Daniel Day-Lewis
were sure things. And for those who pay attention to some of the more obscure categories,
Amour
and
Searching for Sugar Man
were pretty certain. Oh, and
Adele
. Beyond that, there were many surprises. Few guessed that
Life of Pi
would walk away with the most awards (with a rather paltry four). And that
Pi
's
Ang Lee
would best
Lincoln
's
Steven Spielberg
! (Oddsmakers had Lee and Spielberg neck-and-neck, but I didn't believe it. How wrong I was.)
Seth MacFarlane was predictably good.
This hosting gig suits him well. We've long known that he's a song-and-dance man and, sure enough, he had three song-and-dance sequences in his opening monologue alone. The majority of the jokes were suitable for a conservative broadcast, with a few of them approaching, but I wouldn't say crossing, the line of good taste. (Some people are trying to convince us that they were
genuinely offended by a Lincoln-assassination joke
. I call b.s.) MacFarlane seemed delighted to be hosting, and the feeling was contagious.
The persistence of Seth MacFarlane.
For quite a few years, Oscar hosts have had this bad habit of disappearing after the first hour, maybe hour-and-a-half. Seth MacFarlane was there the whole time. He was actually a host, a persistant presence we could rely on throughout the night. That's something the Academy should keep.
Where's the orchestra?
So, instead of the live orchestra playing in the
Dolby Theatre
in front of the audience, they decided to house them
a mile down the road
? Believe me, I understand how wonderfully connective technology is these days. But removing the orchestra from the actual event location made the music feel disjointed. This was especially true when they had to come in with the
Jaws
play-off music (which has to be the historically worst choice for play-off music).
Ted is real!
Interacting with "on-stage" computer animation has come a long way. The
Toy Story
sketch back in
1996
could only sell the illusion with a clear stage (which
Whoopi Goldberg
slightly flubbed), and was still cartoony. Ted was so convincing that a friend watching the show with me was sure it was a puppet.
They're allowed to have ties?
Skyfall
and
Zero Dark Thirty
tied for Best Sound Editing.
Not unprecedented
, but certainly rare. (The last time there was an Oscar tie, I was too young to care about the category - Live Action Short.)
Montages.
Sucked. I suppose I'm one of the few people who actually loves a good Oscar montage. Yes, there have been years when they've overdone it with the montages; but the Academy Awards are all about celebrating movies, and a well-made montage can bring me close to tears. The only real montage this year was the one for
Bond
, and it was terrible. (They would have been better off focusing on the best quotes rather than the biggest action set pieces.)
I cracked the Shorts code!
Last year,
I pointed out
that I have an oh-for-six record of predicting the Live-Action and Animated Shorts winners since I began attending screenings of them. This year, I'm batting 1.000! Okay, "
Paperman
" was kind of a gimme; that's the only short that a wide audience had actually seen, so of course it was going to win. But
everything
in the Live-Action category was obscure. If I can repeat this success next year, I'll know I've figured it out.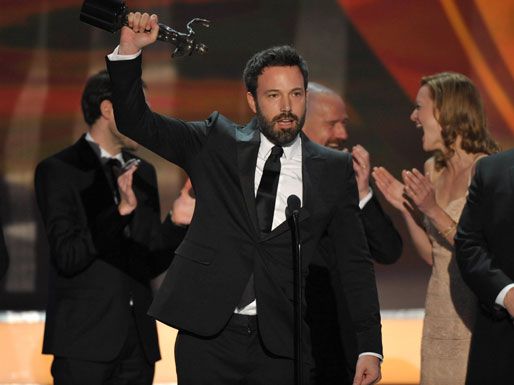 Spoiler-cast!
Have you seen all the Best Picture nominees? Well if you haven't, too bad, because the Oscar telecast showed you the endings, as well as critical turning points, for just about every movie. What were they thinking?
Upstaging Nicholson.
The Best Picture winner,
Argo
, was announced by
Michelle Obama
. Okay, cool. Why?
Best gag of the night:
The introduction of
Christopher Plummer
turning into a full-on reenactment of the Von Trapp family's escape.
My Score Sheet
This year, I placed guesses in 23 categories. Of those, I got 13 right. That's a
57% accuracy
. Not too shabby, and a
vast improvement over last year
. Regrettably, I wasn't the highest scorer in the room I was sitting in. I'll need to do some work to improve my score next year. Still, I'm really proud about this whole Shorts thing. It's really been bugging me that I've never been able to guess them correctly. Getting them right this year definitely helped up my percentage.
In Summary
Something felt a little off to me about the Oscars this year, and I think it comes down to indecision. For better or for worse, Oscar races usually come down to one or two clear frontrunners. This year,
the top six awards (Actor, Actress, Supporting Actor, Supporting Actress, Director, Picture) each went to a different movie
. But I suppose that speaks to the high volume of quality movies this year.
I think Seth MacFarlane did a good job hosting, and I hope he gets to do it again soon. It was an enjoyable show this year. My meaningless grade for the 85th Academy Awards broadcast is
B+
, dropped from an A- because it went on too long and lacked good montages.