Read the previous five by
clicking here
. Episodes are listed in chronological order.
"
And Maggie Makes Three
"
Category: Heart
I always loved episodes with well-earned poignant moments. This episode mines a surprising amount of material out of Homer's "dream job" of working at a bowling alley. When Homer is forced to return to the power plant, the show lets you feel the defeat without overplaying it. But they really bring it home with that beautiful transformation of Burns' de-motivational plaque.
"
Bart's Comet
"
Category: Kids being kids, Heart
I had a paper route when this episode originally aired, and the sequence involving Bart joining Skinner in the wee hours for an amateur astronomy session felt authentic to the predawn, humanity-devoid early morning experience. I think I generally enjoy stories where a large group of people are thrown into unusual circumstances. The town coming together at the end for a round of "Que Sera" -- though meant to be humorous -- just plain works as an emotional moment. The episode smartly dodges the deus ex machina of the town's salvation by setting it up early in the episode with Homer's prediction.
"'
Round Springfield
"
Category: Heart
How I learned to do the perfect Bad
Cosby
Impression.
Bleeding Gums Murphy
's death has genuine emotion behind it (even if all you really need to do is go down to the pound and get a new jazzman), and it was a smart decision to let him go halfway through the episode -- rather than build up to it at the end -- and turn the third act into Lisa's quest to pay tribute to him.
"
Lemon of Troy
"
Category: Kids being kids
Possibly the best "kids being kids" episode of them all. Fun shenanigans as Bart expresses his recently-discovered town pride. Springfield is, need it be said, a part of us all. A part of us all. A part of us all!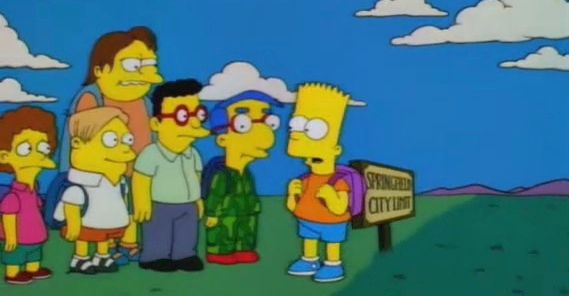 "
Mother Simpson
"
Category: Heart
"The Simpsons" answers a question we didn't really know we had -- what about Homer's mom? -- and does so exquisitely! The reunion fills us in on what kind of person she is, where she's been all this time, where Lisa fits into the family, and mines startlingly raw abandonment issues in Homer. As the joyful reunion turns bittersweet, the episode ends on a quietly poignant moment. It still amazes me that such a fast-paced and joke-filled series is willing to go out on a moment of quiet solitude like that.
Click here to read the final five
!