Here's a look at the script for the animated short I wrote called "Daddy's Handwriting":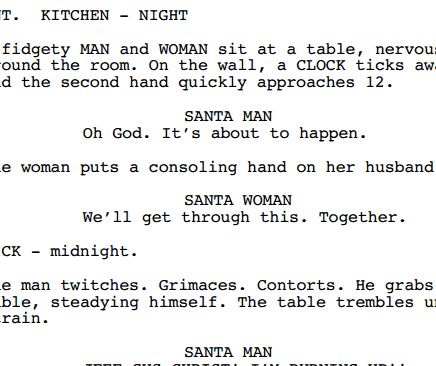 Click here for script
And here's the finished video, in case you missed it.
As with any movie, you'll find that what works on the page isn't always what's best for the screen. I'd set the scene in a kitchen, probably imagining a plate of cookies and some milk (not mentioned in the script) left out for Santa Claus.
Director Cam Leeburg
wisely set the scene in the more visually interesting living room, with a nice fire going. This also meant
animator Jason Oshman
only had to design one location instead of two. That might sound minor, but it's a big time- and budget-saver.
Scripted details such as Santa's bag of toys and the wife's final reaction to the transformation were also left out. When you watch the finished video, it's easy to see why: they just weren't necessary after the way everything previous played out.
The final line of dialogue was also modified by
Zeb Wells
, who provided the voice. The way it's written, the father treats the horrific transformation as if it's no big deal. In the moment of recording, the actor found a different interpretation - a bit of annoyed hostility - which worked perfectly, and everyone agreed was the way to go.