Well, I guess I'm officially an old man now. Throughout 2014, my most frequent reaction to the theatrical releases on any given day was, "None of this looks any good." Okay, grandpa, why don't you go ahead and have a seat in this rocking chair?
That sounds nice, actually. Does it have a foot rest?
Yes, my movie attendance was low this year. Probably the lowest since my pre-teen years. But the movies I
did
see are likely to remain all-time favorites. And to my surprise, they were some of the top nominees for the Oscars this year.
Take
The Grand Budapest Hotel
, for example. I loved that movie. It's probably in my top three favorite
Wes Anderson
movies, and was easily one of my favorite movies from last year. Anderson has not typically been recognized by the Academy, nor is March -- when
Grand Budapest
hit theaters -- a typical month for awards contenders. But here it is, tying with
Birdman
for most nominations!
And speaking of
Birdman
, that's far and away my favorite
Iñárritu
movie, and the kind of movie
Michael Keaton
fans have been waiting over 15 years to see him in again.
So I've got clear favorites this year. Who will actually win? Let's see if we can guess...
Best Sound Editing
American Sniper, Alan Robert Murray and Bub Asman
Birdman or (The Unexpected Virtue of Ignorance), Martín Hernández and Aaron Glascock
The Hobbit: The Battle of the Five Armies, Brent Burge and Jason Canovas
Interstellar, Richard King
Unbroken, Becky Sullivan and Andrew DeCristofaro
Best Sound Mixing
American Sniper, John Reitz, Gregg Rudloff and Walt Martin
Birdman or (The Unexpected Virtue of Ignorance), Jon Taylor, Frank A. Montaño and Thomas Varga
Interstellar, Gary A. Rizzo, Gregg Landaker and Mark Weingarten
Unbroken, Jon Taylor, Frank A. Montaño and David Lee
Whiplash, Craig Mann, Ben Wilkins and Thomas Curley
What's the difference between these two categories? Think of it like this. Sound editing used to be called sound designing. Just as the costume designer plans the style and gathers the raw material for costumes, the sound designer plans what the movie will sound like and gathers the "raw material" (dialogue, effects, music). Sound mixing is what happens when you imagine the person sitting at that big console, sliding the levels up and down.
Although brainy sci-fi movies like
Interstellar
have a good track record of winning for sound editing, war movies tend to do even better... especially highly-regarded ones. I think
American Sniper will win for Sound Editing
.
And while it's possible for
Sniper
to double up with editing and mixing, I'm predicting
Birdman will take the award for Sound Mixing
, with it's blending of the drum-based score, v.o. layer of Michael Keaton, transitions between single-take sequences, and dynamic shifts between on-stage and off-stage action.
Best Visual Effects
Captain America: The Winter Soldier, Dan DeLeeuw, Russell Earl, Bryan Grill and Dan Sudick
Dawn of the Planet of the Apes, Joe Letteri, Dan Lemmon, Daniel Barrett and Erik Winquist
Guardians of the Galaxy, Stephane Ceretti, Nicolas Aithadi, Jonathan Fawkner and Paul Corbould
Interstellar, Paul Franklin, Andrew Lockley, Ian Hunter and Scott Fisher
X-Men: Days of Future Past, Richard Stammers, Lou Pecora, Tim Crosbie and Cameron Waldbauer
Three years ago, I lost points in this category for predicting
Rise of the Planet of the Apes
;
Martin Scorsese
's
Hugo
won that year instead. Well, there ain't no Scorsese movie this year. But there
is
a
Christopher Nolan
. If you consider
Interstellar
to be this year's
Gravity
, then you should bet on that. But
my fool-me-twice pick is Dawn of the Planet of the Apes
. That effects work really needs to be recognized.
Best Costume Design
The Grand Budapest Hotel, Milena Canonero
Inherent Vice, Mark Bridges
Into the Woods, Colleen Atwood
Maleficent, Anna B. Sheppard and Jane Clive
Mr. Turner, Jacqueline Durran
This is a tough call. Colleen Atwood is an Academy favorite.
Grand Budapest
has the momentum of all those nominations. But
Mr. Turner
, with its down-to-earth period realism (think of recent winners like
Anna Karenina
and
The Artist
),
is my best guess
.
Best Makeup and Hairstyling
Foxcatcher, Bill Corso and Dennis Liddiard
The Grand Budapest Hotel, Frances Hannon and Mark Coulier
Guardians of the Galaxy, Elizabeth Yianni-Georgiou and David White
I'll just come right out and say it: this is definitely the category I'm least qualified to pick.
Guardians
is probably too high-profile. And while
Foxcatcher
could win for the facial reconstruction of Steve Carell, I think
Grand Budapest will win for its range
(high- and low-class society, prisoners, people out in the cold, aging makeup on Tilda Swinton).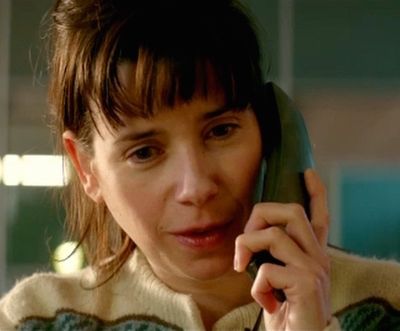 Best Live Action Short Film
"Aya" Oded Binnun and Mihal Brezis
"Boogaloo and Graham" Michael Lennox and Ronan Blaney
"Butter Lamp (La Lampe Au Beurre De Yak)" Hu Wei and Julien Féret
"Parvaneh" Talkhon Hamzavi and Stefan Eichenberger
"The Phone Call" Mat Kirkby and James Lucas
Look, I hate to sound cynical about the whole thing, but death (and suicide in particular) tends to score in this category. Add to that the recognizable cast -- who certainly deliver strong performances -- and
"The Phone Call" looks like the probable winner
.
Best Animated Short Film
"The Bigger Picture" Daisy Jacobs and Christopher Hees
"The Dam Keeper" Robert Kondo and Dice Tsutsumi
"Feast" Patrick Osborne and Kristina Reed
"Me and My Moulton" Torill Kove
"A Single Life" Joris Oprins
Disney's
"Feast" is the most adorable and emotionally accessible of the group
. Its Annie Award win bolsters the likelihood that it will win here. (Just don't make the mistake of saying, "It's Disney, of course it'll win." Disney and Pixar have been overlooked in this category in all but one year this decade.)
Best Film Editing
American Sniper, Joel Cox and Gary D. Roach
Boyhood, Sandra Adair
The Grand Budapest Hotel, Barney Pilling
The Imitation Game, William Goldenberg
Whiplash, Tom Cross
The time-spanning
Boyhood
is anchored by its seamless transitions which manage to propel you through time and quickly orient you to where you are.
Best Original Song
"Everything Is Awesome" from The Lego Movie, music and lyric by Shawn Patterson
"Glory" from Selma, music and lyric by John Stephens and Lonnie Lynn
"Grateful" from Beyond the Lights, music and lyric by Diane Warren
"I'm Not Gonna Miss You" from Glen Campbell… I'll Be Me, music and lyric by Glen Campbell and Julian Raymond
"Lost Stars" from Begin Again, music and lyric by Gregg Alexander and Danielle Brisebois
I want to say it's a no-brainer for "Everything Is Awesome" to win this award. Then again, I would have said it was a no-brainer for
The Lego Movie
to win Best Animated Feature, until it didn't get nominated. Still,
"Everything Is Awesome" is far and away the biggest original song from any movie in 2014
. It's gotta win.
Best Original Score
The Grand Budapest Hotel, Alexandre Desplat
The Imitation Game, Alexandre Desplat
Interstellar, Hans Zimmer
Mr. Turner, Gary Yershon
The Theory of Everything, Jóhann Jóhannsson
Alexandre Desplat
could
end up splitting the vote between himself and winning neither. But I'm expecting
the score for Grand Budapest Hotel will pull ahead for the victory
.
Best Production Design
The Grand Budapest Hotel - Production Design: Adam Stockhausen; Set Decoration: Anna Pinnock
The Imitation Game - Production Design: Maria Djurkovic; Set Decoration: Tatiana Macdonald
Interstellar - Production Design: Nathan Crowley; Set Decoration: Gary Fettis
Into the Woods - Production Design: Dennis Gassner; Set Decoration: Anna Pinnock
Mr. Turner - Production Design: Suzie Davies; Set Decoration: Charlotte Watts
The whimsical take on the prewar period of
Grand Budapest should be irresistible voters
.
Best Cinematography
Birdman or (The Unexpected Virtue of Ignorance), Emmanuel Lubezki
The Grand Budapest Hotel, Robert Yeoman
Ida, Lukasz Zal and Ryszard Lenczewski
Mr. Turner, Dick Pope
Unbroken, Roger Deakins
Some voters may be turned off by the presumed gimmickry and flashiness of
Birdman
's one-take conceit. And there's some extremely strong competition in this category, which makes it really difficult to call. (Seriously, each of these movies is beautiful for different reasons, and you should watch them all.) But I think
Birdman has the edge
.
Best Animated Feature
Big Hero 6, Don Hall, Chris Williams and Roy Conli
The Boxtrolls, Anthony Stacchi, Graham Annable and Travis Knight
How to Train Your Dragon 2, Dean DeBlois and Bonnie Arnold
Song of the Sea, Tomm Moore and Paul Young
The Tale of the Princess Kaguya, Isao Takahata and Yoshiaki Nishimura
It's still mind-boggling that
The Lego Movie
wasn't nominated here. In light of that,
Dragon 2
has been on a winning streak, and it seems like that's what we should expect on Oscar night.
Best Foreign Language Film
Ida, Poland
Leviathan, Russia
Tangerines, Estonia
Timbuktu, Mauritania
Wild Tales, Argentina
Ida has all the momentum here
, and with few exceptions, that's usually the way you can expect the win to go.
Best Documentary Feature
CitizenFour, Laura Poitras, Mathilde Bonnefoy and Dirk Wilutzky
Finding Vivian Maier, John Maloof and Charlie Siskel
Last Days in Vietnam, Rory Kennedy and Keven McAlester
The Salt of the Earth, Wim Wenders, Juliano Ribeiro Salgado and David Rosier
Virunga, Orlando von Einsiedel and Joanna Natasegara
CitizenFour
-- a documentary about Edward Snowden from the only journalist who had full access to him before and after he went public -- is pretty much the definition of a sure thing.
Best Adapted Screenplay
American Sniper, Jason Hall
The Imitation Game, Graham Moore
Inherent Vice, Paul Thomas Anderson
The Theory of Everything, Anthony McCarten
Whiplash, Damien Chazelle
There's a strong possibility that
Whiplash
could win this one, and you might pull ahead in your Oscar pool if you go with that. But with the strong debut and staying power of
American Sniper
, not to mention the ongoing controversy which is keeping it fresh in everyone's mind, I'm picking it for the win here.
Best Original Screenplay
Birdman or (The Unexpected Virtue of Ignorance), Alejandro G. Iñárritu, Nicolás Giacobone, Alexander Dinelaris, Jr. & Armando Bo
Boyhood, Richard Linklater
Foxcatcher, E. Max Frye and Dan Futterman
The Grand Budapest Hotel, Wes Anderson & Hugo Guinness
Nightcrawler, Dan Gilroy
Despite
Grand Budapest
tying for most nominations this year, I'm not anticipating a best picture win. But I
do
think that it will win this one as a nod to its overall quality.
Best Supporting Actor
Robert Duvall, The Judge
Ethan Hawke, Boyhood
Edward Norton, Birdman or (The Unexpected Virtue of Ignorance)
Mark Ruffalo, Foxcatcher
J.K. Simmons, Whiplash
J.K. Simmons all the way.
His performance in
Whiplash
is all anyone has been talking about since the movie's Sundance premiere in January 2014. (Seriously, for the entire year of 2014, not a single person has had a conversation that wasn't about J.K. Simmons in
Whiplash
.
Best Supporting Actress
Patricia Arquette, Boyhood
Laura Dern, Wild
Keira Knightley, The Imitation Game
Emma Stone, Birdman or (The Unexpected Virtue of Ignorance)
Meryl Streep, Into the Woods
Likewise,
Patricia Arquette is the standout among these nominees
.
Boyhood
is nearly as much about her as it is about the boy.
Best Actor
Steve Carell, Foxcatcher
Bradley Cooper, American Sniper
Benedict Cumberbatch, The Imitation Game
Michael Keaton, Birdman or (The Unexpected Virtue of Ignorance)
Eddie Redmayne, The Theory of Everything
Although Eddie Redmayne won the SAG award for individual achievement, keep in mind that
Birdman
won for best ensemble. I think the Academy loves Michael Keaton. I think they've been waiting a long time to give him this award; all they needed was the right performance in the right movie.
Birdman
was it.
Keaton will win
.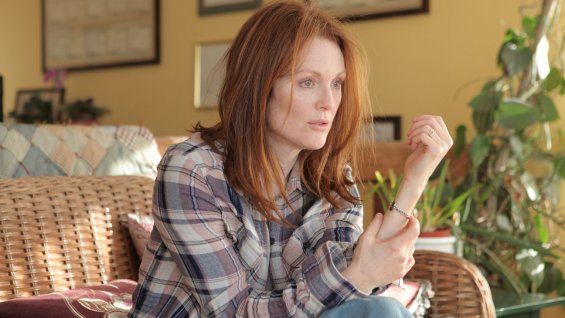 Best Actress
Marion Cotillard, Two Days, One Night
Felicity Jones, The Theory of Everything
Julianne Moore, Still Alice
Rosamund Pike, Gone Girl
Reese Witherspoon, Wild
It's easy to criticize the Academy for being suckered in by "Oscar bait" material, such as someone suffering a degenerative disease. But
Julianne Moore
brings humanity and reality to this story of a woman experiencing Alzheimer's disease.
Best Director
Birdman or (The Unexpected Virtue of Ignorance), Alejandro G. Iñárritu
Boyhood, Richard Linklater
Foxcatcher, Bennett Miller
The Grand Budapest Hotel, Wes Anderson
The Imitation Game, Morten Tyldum
Boyhood
is an impressive achievement, a notion most people would have dismissed as soon as they thought of it. A production spread out over 12 long years during which any number of things could have gone wrong, making the movie impossible to complete. But things didn't go wrong. The movie
did
get completed. And somehow it turned out great! A successful meditation on growing up and growing old, the way things change and the way they stay the same. The way a decision echoes through time.
And there's one person who gets the credit for not dismissing the notion, but for following it. And for following through on it. And for keeping it on track logically and emotionally over the course of a 12-year start-and-stop production cycle.
Richard Linklater will win Best Director
.
Best Picture
American Sniper, Clint Eastwood, Robert Lorenz, Andrew Lazar, Bradley Cooper and Peter Morgan, Producers
Birdman or (The Unexpected Virtue of Ignorance), Alejandro G. Iñárritu, John Lesher and James W. Skotchdopole, Producers
Boyhood, Richard Linklater and Cathleen Sutherland, Producers
The Grand Budapest Hotel, Wes Anderson, Scott Rudin, Steven Rales and Jeremy Dawson, Producers
The Imitation Game, Nora Grossman, Ido Ostrowsky and Teddy Schwarzman, Producers
Selma, Christian Colson, Oprah Winfrey, Dede Gardner and Jeremy Kleiner, Producers
The Theory of Everything, Tim Bevan, Eric Fellner, Lisa Bruce and Anthony McCarten, Producers
Whiplash, Jason Blum, Helen Estabrook and David Lancaster, Producers
But will
Boyhood
win Best Picture? I'm not prepared to take that as a given. It's taken some hits in its second wave of criticism, and I think many Oscar voters will second guess the way they initially felt about it.
Meanwhile,
Birdman
took its criticism right up front, but endured as a movie that was exhilarating and left people thinking. Personally, I've had numerous debates around the office about
Birdman
. Number of times we've talked about
Boyhood
: 0.
Not to bash
Boyhood
. I thought it was great. And hey, I'm not about to complain about any awards show that has Richard Linklater, Wes Anderson, Michael Keaton, and Laura Dern as nominees. (This '90s boy is jumping for joy on the inside.) But we're not strictly talking about what's great, we're talking about what's going to win. And
I think Birdman is going to win
.
So that's my take. What are your predictions?
Like millions of others, I'll have asinine comments about the telecast that I'll be posting on
Twitter
. Be sure to
follow me @yourdailyjoe
. The 87th Academy Awards ceremony will air on February 22, 2015 at 8:30 eastern/5:30 pacific on
ABC
.