It should come as a surprise to no one that I'm somewhat obsessed with TV and movies, and am therefore always up for a good story about Hollywood. I've recently found myself digging into several excellent Hollywood stories -- some factual, some fictional. This is one I highly recommend.
My current favorite comic book series, "The Fade Out" comes from all-star comics writer
Ed Brubaker
(who, among many notable projects, wrote the
"Winter Soldier"
storyline that 2014's
"Captain America"
movie was based on) and artist
Sean Philips
.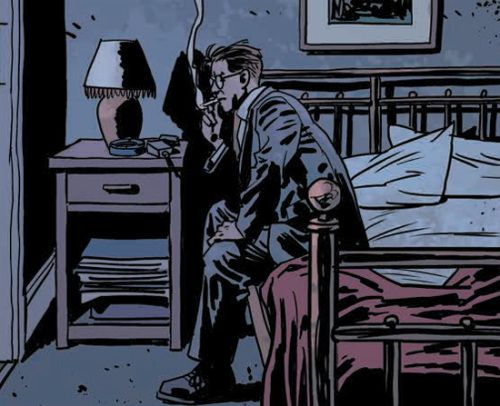 Dabbling once again in the
noir
territory he frequents, Brubaker sets his story in
1948 Los Angeles
. Screenwriter Charlie Parish wakes up to discover himself in the middle of an apparent murder scene, the victim being an up-and-coming actress with a role in Charlie's next movie. Fleeing the scene, Charlie becomes guilt-ridden when he realizes the movie studio is portraying it in the media as a suicide. Unable to let it be, Charlie and his alcoholic writing partner get in over their heads as they attempt to uncover the truth.
This series is only five issues in and, if you haven't been reading it already, now is the perfect time to jump in. The first volume containing issues 1 - 4 is out now.
But I'd recommend seeking out the single issues. In addition to the great story being told, each issue is packaged with excellent peripheral material including additional artwork and -- my personal favorite -- a true story from Hollywood's past (such as the
Fatty Arbuckle
trials, or the
Hollywood sign suicide
). Even the fan letters are well-curated by Brubaker. Packed with outstanding material, each issue is a great read from cover to cover.