Is it possible for a movie like "
Mad Max: Fury Road
" to win Best Picture at the Academy Awards? Is that something that could ever actually happen? If ever it could, this would be the year.
In case you haven't heard,
the Oscars are extremely difficult to predict this year
. The cottage industry of awards predicting seems to be at a loss when it comes to the major categories. Although some categories have been coming into clearer focus -- DiCaprio, you're on deck -- many remain a great big question mark, with strong arguments to be made for each nominee. To me, frankly, that makes this year a lot more fun!
Look, plain and simple, we're probably not going to be winning our Oscar pools this year. And you know what? I'm discovering that there's a great deal of freedom in that.
Awards don't matter; we all know that, right?
Your favorite movie should not be dictated by any voting body. The movies that people think about and talk about over the years are rarely the ones that win awards. So why do we even care about movie awards (to whatever degree we
do
care)? Because they're fun! And in this year of unpredictability, I think there's an opportunity to have more fun than ever before. We're all going to be surprised.
So I'm embracing the anything-could-happen spirit of this year's Oscars. What does that mean for my predictions below? In all honesty, it means
I'm going to be mostly wrong
.
But who cares?!
Let's just do what we're supposed to do and have fun with it!
Best Sound Editing
Mad Max: Fury Road, Mark Mangini and David White
The Martian, Oliver Tarney
The Revenant, Martin Hernandez and Lon Bender
Sicario, Alan Robert Murray
Star Wars: The Force Awakens, Matthew Wood and David Acord
Best Sound Mixing
Bridge of Spies, Andy Nelson, Gary Rydstrom and Drew Kunin
Mad Max: Fury Road, Chris Jenkins, Gregg Rudloff and Ben Osmo
The Martian, Paul Massey, Mark Taylor and Mac Ruth
The Revenant, Jon Taylor, Frank A. Montano, Randy Thom and Chris Duesterdiek
Star Wars: The Force Awakens, Andy Nelson, Christopher Scarabosio and Stuart Wilson
As a public service, I use this space every year to remind people of the difference between these two categories. The biggest clue is in the word "mixing" - the
Sound Mixer
is the person you want to curse out for making the dialogue all quiet and the action eardrum-splittingly loud; the
Sound Editor
is the person who essentially "creates" the sound, gathering up what was recorded during production and finding or recording all other necessary sounds.
Although outer space movies often perform well in
Sound Editing
, war movies often do better. And even though it's not strictly a "war movie," I'd say
Sicario hits the mark here
.
A conservative guess for
Sound Mixing
might be
Star Wars
, if you want to go that way. But my prediction is that
it will go to Mad Max
.
Best Visual Effects
Ex Machina, Andrew Whitehurst, Paul Norris, Mark Ardington and Sara Bennett
Mad Max: Fury Road, Andrew Jackson, Tom Wood, Dan Oliver and Andy Williams
The Martian, Richard Stammers, Anders Langlands, Chris Lawrence and Steven Warner
The Revenant, Rich McBride, Matthew Shumway, Jason Smith and Cameron Waldbauer
Star Wars: The Force Awakens, Roger Guyett, Patrick Tubach, Neal Scanlan and Chris Corbould
Once again,
Star Wars
is the conservative bet here, especially since LucasFilm heavily promoted JJ Abrams' return to the practical effects of yore over the digital-drenched modern methods. But
Mad Max
did practical effects too, and its suped-up cars and real-world explosions stand out amongst the decades of spaceships and aliens we've grown accustomed to since, well, the original
Star Wars
.
I'm predicting Mad Max
.
Best Costume Design
Carol, Sandy Powell
Cinderella, Sandy Powell
The Danish Girl, Paco Delgado
Mad Max: Fury Road, Jenny Beavan
The Revenant, Jacqueline West
I'm no expert here, but
Carol feels like the right fit for this category
. More than the other nominees, the costumes in
Carol
help convey character.
Best Makeup and Hairstyling
Mad Max: Fury Road, Lesley Vanderwalt, Elka Wardega and Damian Martin
The 100-Year-Old Man Who Climbed Out a Window and Disappeared, Love Larson and Eva von Bahr
The Revenant, Sian Grigg, Duncan Jarman and Robert Pandini
Again, not an expert, but
this seems like a win for The Revenant
.
Best Live Action Short Film
"Ave Maria," Basil Khalil and Eric Dupont
"Day One," Henry Hughes
"Everything Will Be Okay (Alles Wird Gut)," Patrick Vollrath
"Shok," Jamie Donoughue
"Stutterer," Benjamin Cleary and Serena Armitage
While not my personal favorite of this bunch, I think
"Stutterer" will win
; it hits that sweet spot of cuteness, overcoming adversity, sympathetic hero... things that the Academy loves to vote for. (For the record, these are all really strong this year. Seek them out! They can usually be rented through your cable provider or streaming online under the name
Shorts HD
.)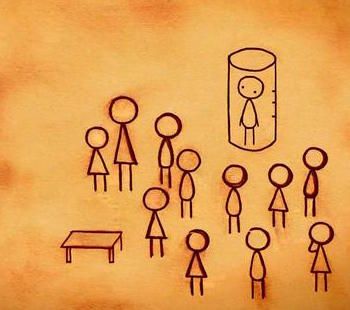 Best Animated Short Film
"Bear Story," Gabriel Osorio and Pato Escala Pierart
"Prologue," Richard Williams and Imogen Sutton
"Sanjay's Super Team," Sanjay Patel and Nicole Grindle
"We Can't Live Without Cosmos," Konstantin Bronzit
"World of Tomorrow," Don Hertzfeldt
I have a strong personal favorite here. A very strong personal favorite.
I love Don Hertzfeldt's "World of Tomorrow."
Not only is it very funny in the ways Hertzfeldt usually is, but it's also packed with intelligent, well-thought-out sci-fi concepts that I think too many people mistake for merely goofy. On top of all that, there are moments of profound depth, both emotional and intellectual. This is a great movie, and I want it to win.
Best Film Editing
The Big Short, Hank Corwin
Mad Max: Fury Road, Margaret Sixel
The Revenant, Stephen Mirrione
Spotlight, Tom McArdle
Star Wars: The Force Awakens, Maryann Brandon and Mary Jo Markey
I think the snappiness of
The Big Short will have the greatest appeal to voters
.
Best Original Song
"Earned It" from Fifty Shades of Grey, music and lyrics by Abel Tesfaye, Ahmad Balshe, Jason Daheala Quenneville and Stephan Moccio
"Manta Ray" from Racing Extinction, music by J. Ralph and lyrics by Antony Hegarty
"Simple Song #3" from Youth, music and lyrics by David Lang
"Til It Happens to You" from The Hunting Ground, music and lyric by Diane Warren and Lady Gaga
"Writing's on the Wall" from Spectre, music and lyrics by Jimmy Napes and Sam Smith
I honestly don't know how Sam Smith's
other
movie song from the year --
Furious 7
's "See You Again" -- didn't get a nomination. It may lay on the sentimentality pretty thick but, damn it, it works! In that song's absence, I think
"Writing's on the Wall" will win
.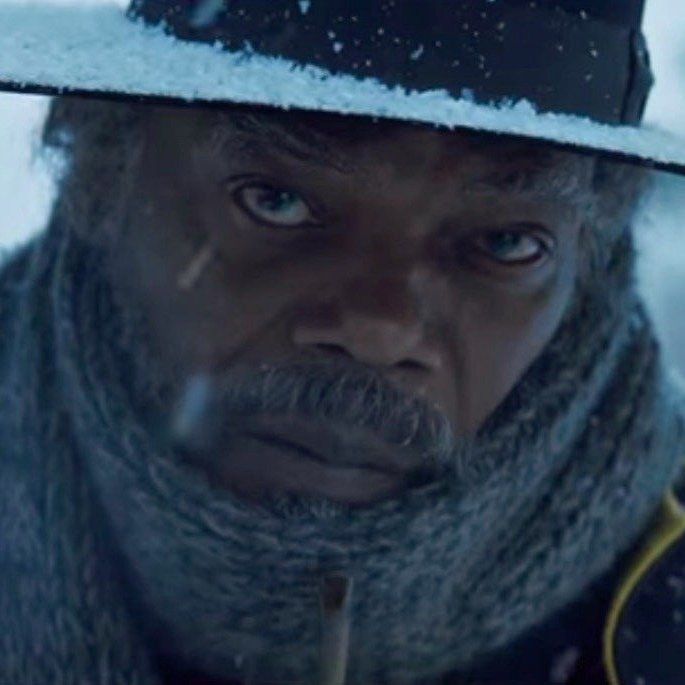 Best Original Score
Bridge of Spies, Thomas Newman
Carol, Carter Burwell
The Hateful Eight, Ennio Morricone
Sicario, Jóhann Jóhannsson
Star Wars: The Force Awakens, John Williams
Ennio Morricone's score for The Hateful Eight
went over well for just about everyone, even those who weren't very high on the movie itself (which, by the way, I
was
high on). Not only that, but the aging Morricone has never won a competitive Oscar. I think this is looking like an easy win for him.
Best Production Design
Bridge of Spies - production design: Adam Stockhausen; set decoration: Rena DeAngelo and Bernhard Henrich
The Danish Girl - production design: Eve Stewart; set decoration: Michael Standish
Mad Max: Fury Road - production design: Colin Gibson; set decoration: Lisa Thompson
The Martian - production design: Arthur Max; set decoration: Celia Bobak
The Revenant - production design: Jack Fisk; set decoration: Hamish Purdy
This is one of those categories where there's a strong case to be made for each nominee. Very tough call. If
The Revenant
ends up having a good night, this award will get swept up in that.
The Danish Girl
is nothing if not lush and artful. But
I'm betting on Bridge of Spies
to pull through on this one. Call it a gut feeling, but the matter-of-fact recent-history on display in this movie really stands out.
Best Cinematography
Carol, Ed Lachman
The Hateful Eight, Robert Richardson
Mad Max: Fury Road, John Seale
The Revenant, Emmanuel Lubezki
Sicario, Roger Deakins
One of the strongest elements of
The Revenant
is its cinematography. If Emmanuel Lubezki wins, he'll be the first-ever cinematographer to win three consecutive years, and it would be well-earned. And then there's the vaunted 70mm photography of
The Hateful Eight
, which distinguishes it amongst the nominees. Still, I'm hopeful Oscar voters will take this opportunity to
finally give an award to Roger Deakins
. Deakins is in the top tier of cinematographers, having shot some of your favorite Coen Brothers movies, Bond movies, and -- guys, come on! -- the effin'
Shawshank Redemption
! And he's never won an Academy Award! If anyone is well past due for an Oscar, it's him.
Best Animated Feature
Anomalisa, Charlie Kaufman, Duke Johnson and Rosa Tran
Boy and the World, Alê Abreu
Inside Out, Pete Docter and Jonas Rivera
Shaun the Sheep Movie, Mark Burton and Richard Starzak
When Marnie Was There, Hiromasa Yonebayashi and Yoshiaki Nishimura
The true standout here, in both style and subject matter, is
Anomalisa
. But this also happens to be the same year that Pixar released its best movie in five years, arguably longer. I have a feeling that the Academy will throw its weight behind the movie the whole family can enjoy together,
Inside Out
.
Best Foreign-Language Film
Embrace of the Serpent, Colombia
Mustang, France
Son of Saul, Hungary
Theeb, Jordan
A War, Denmark
It's a rare year wherein I've seen zero of the foreign nominees, but here we are. You're going to want to take my prediction with a grain of salt. Even so, I'll note
Son of Saul
is the foreign-language nominee I've heard the most talk about, so I'm eyeing that for the win.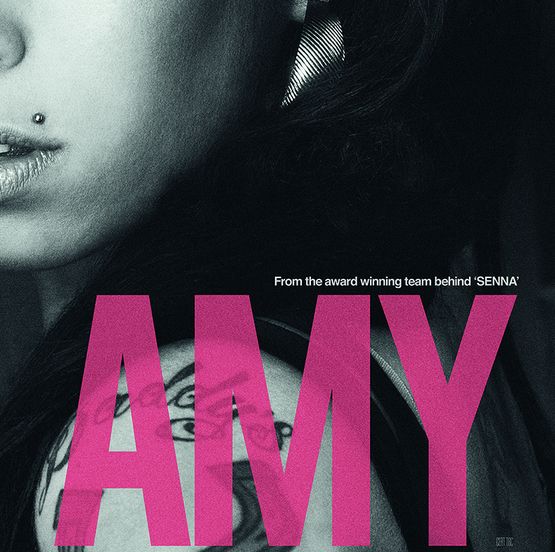 Best Documentary Feature
Amy, Asif Kapadia and James Gay-Rees
Cartel Land, Matthew Heineman and Tom Yellin
The Look of Silence, Joshua Oppenheimer and Signe Byrge Sørensen
What Happened, Miss Simone?, Liz Garbus, Amy Hobby and Justin Wilkes
Winter on Fire: Ukraine's Fight for Freedom, Evgeny Afineevsky and Den Tolmor
The tender, sad, and sympathetic portrait of
Amy Winehouse
is far and away the most-beloved documentary of the year. I expect that to translate to votes.
Best Adapted Screenplay
The Big Short, Charles Randolph and Adam McKay
Brooklyn, Nick Hornby
Carol, Phyllis Nagy
The Martian, Drew Goddard
Room, Emma Donoghue
The late-game groundswell of support for
The Big Short
is unlikely to result in a Best Picture win, but I think it will be enough to carry this category.
Best Original Screenplay
Bridge of Spies, Matt Charman, Ethan Coen and Joel Coen
Ex Machina, Alex Garland
Inside Out, Pete Docter, Meg LeFauve, Josh Cooley, Ronnie del Carmen
Spotlight, Josh Singer and Tom McCarthy
Straight Outta Compton, Jonathan Herman, Andrea Berloff, S. Leigh Savidge, Alan Wenkus, Andrea Berloff
In sort of a reverse-
Big Short
,
Spotlight
had a lot of support upon its initial release in early November. But as the Oscar contenders piled up in the weeks that followed,
Spotlight
started to get a bit drowned out and is now unlikely to win Best Picture. I think this is the award it
will
win.
Best Supporting Actor
Christian Bale, The Big Short
Tom Hardy, The Revenant
Mark Ruffalo, Spotlight
Mark Rylance, Bridge of Spies
Sylvester Stallone, Creed
In a field of killer nominees,
Stallone
is the standout here. This is a fantastic moment for him: his career coming full-circle to the role that made him a star, representing a perfect opportunity for the Academy to acknowledge a lifetime of achievement.
Best Supporting Actress
Jennifer Jason Leigh, The Hateful Eight
Rooney Mara, Carol
Rachel McAdams, Spotlight
Alicia Vikander, The Danish Girl
Kate Winslet, Steve Jobs
This is one of the most challenging categories this year. You could spend gallons of ink on each of these performances. But you have to pick one, and
Alicia Vikander
's one-two punch this year (see also
Ex Machina
) looks like the clincher.
Best Actor
Bryan Cranston, Trumbo
Matt Damon, The Martian
Leonardo DiCaprio, The Revenant
Michael Fassbender, Steve Jobs
Eddie Redmayne, The Danish Girl
This was another one of the tough-to-predict categories early on. But as time has gone by, Leonardo DiCaprio has pulled ahead as the clear front-runner. This is looking like
the year DiCaprio "finally" gets his Oscar
.
Best Actress
Cate Blanchett, Carol
Brie Larson, Room
Jennifer Lawrence, Joy
Charlotte Rampling, 45 Years
Saoirse Ronan, Brooklyn
This is another strong category that's tough to predict. Cate Blanchett is always a top contender. There's always a lot of love for Jennifer Lawrence. Saoirse Ronan has been on the radar for a long time, and I think the Academy is looking for a chance to christen her. And Charlotte Rampling gave, by all accounts, an incredible performance in
45 Years
and could be seen as being due for a Stallone-style career acknowledgement. But
Brie Larson
gave a powerful performance that, for a lot of people, came out of nowhere. I think she'll take the win here.
Best Director
Adam McKay, The Big Short
George Miller, Mad Max: Fury Road
Alejandro G. Iñárritu, The Revenant
Lenny Abrahamson, Room
Tom McCarthy, Spotlight
One of the toughest categories this year. In a typical year,
The Revenant
would be a no-brainer. Iñárritu took a big swing, faced immense challenges, and ended up with a very impressive piece of work that most people (myself included) consider a tremendous success.
But.
He
did
just win last year for
Birdman
. And while that doesn't always figure into the equation for voters, I think it will this year.
I'm going to propose a crazy theory. Like Iñárritu himself, I'm going to go big. I might fall on my face, and laugh at my foolishness in years to come. But maybe, just maybe, my wild prediction will pay wild dividends. My prediction:
George Miller will win
.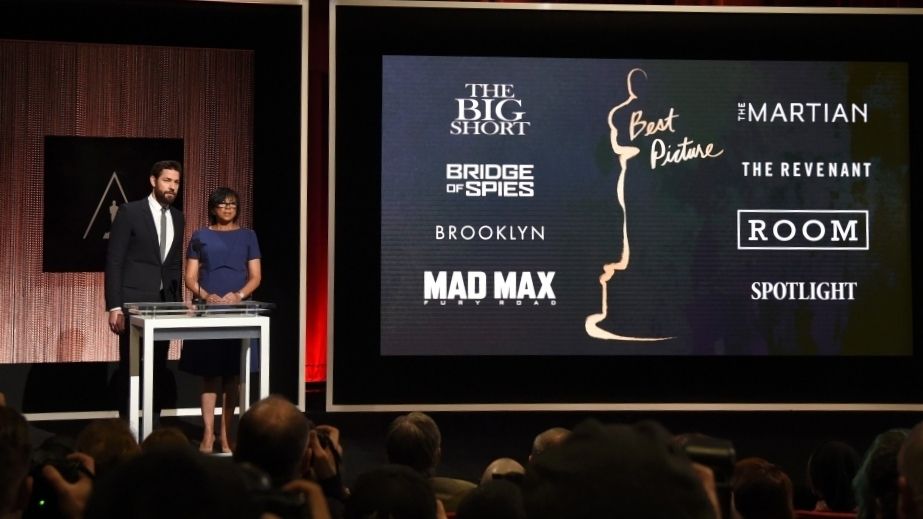 Best Picture
The Big Short, Brad Pitt, Dede Gardner and Jeremy Kleiner
Bridge of Spies, Steven Spielberg, Marc Platt and Kristie Macosko Krieger
Brooklyn, Finola Dwyer and Amanda Posey
Mad Max: Fury Road, Doug Mitchell and George Miller
The Martian, Simon Kinberg, Ridley Scott, Michael Schaefer and Mark Huffam
The Revenant, Arnon Milchan, Steve Golin, Alejandro G. Iñárritu, Mary Parent and Keith Redmon
Room, Ed Guiney
Spotlight, Michael Sugar, Steve Golin, Nicole Rocklin and Blye Pagon Faust
Following up on my crazy prediction in the Best Director category, another crazy prediction:
Spotlight will win this one
.
Like I said, this year is so unpredictable that any of these nominees could swoop in for the win. Some of you may want to consider the following alternate: Tom McCarthy could win Best Director and
Mad Max
could win Best Picture. Seriously, this year is crazy enough for that scenario to be plausible!
Or maybe I'm overthinking it, and the obvious resolution will be
The Revenant
winning Director and Picture. It's a really tough call this year!
As for me, I'm sticking with Miller for Director, and
Spotlight
for Picture.
Am I crazy?